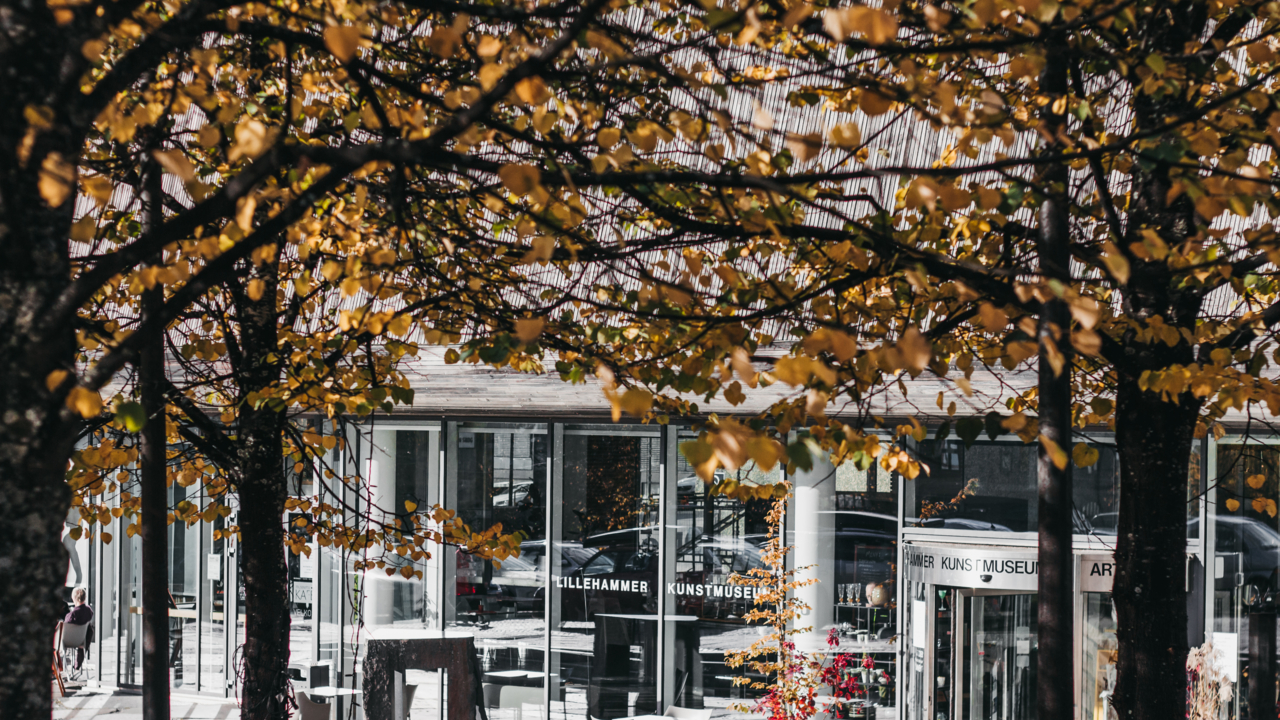 Architecture
Lillehammer Art Museum consists of two distinct buildings and were created in three phases.
The first part of the museum, as we see it today, was opened in 1963. The building, designed by Erling Viksjø, was buildt as a combined museum and cinema building, where the cinema is on the ground floor with the art collection on the floor above. For the facade, Viksjø used textured, natural concrete which he developed himself.
For the World Winter Olympics of 1994 it was decided that there should be a new focus on art and culture in Lillehammer, and one of the goals was for the art museum to be expanded. The then young architecture company Snøhetta was given the task of creating an extension that would face the main square. This new building was completed in 1992 and is nicknamed Flygelet ("The Grand Piano"). It is considered an architectural icon and the main building of the museum today. The distinctive undulating facade consists of larch wood. The Viksjø and Snøhetta buildings were connected by a glass bridge, and between them architectural garden was simultaneously designed by Bård Breivik. The Art Garden spans two levels, of which one part is a park-like area and the other is an open granite space and water installation.
The newest part of the Art Museum was opened in 2016 in the form of another extension at the back of the Viksjø building. This extension houses an educational workshop and a new exhibition hall. Like Flygelet, this was also designed by Snøhetta, and with Bård Breivik's monumental steel relief The Comet, the museum now got a spectacular attraction facing Wieses gate.
The road ahead
In 2027, there will be two important anniversaries: Lillehammer city celebrates 200 years and The Art Museum celebrates 100. On that occasion, the Lillehammer Museum Foundation has an ambitious vision of an extension under the main square, with the project name Kunsthall Innlandet. The project has two aims: An upgrade of the main square to become an attractive meeting place in the city, and a significant expansion of the Art Museum. The latter will provide opportunities to further the educational goals of the museum, as well as the ability to show broad presentations of the permanent collection and the continuous development of Norwegian art from the 19th century to the present day.
In the spring of 2022, the project "Bergtatt" was named as winner of the architectural competition for Kunsthall Innlandet. "Bergtatt" is a collaboration between Norwegian, Danish and Finnish architects and landscape architects: MDH Arkitekter (Oslo), JKMM Arkkitehdit OY (Helsingfors) og MASU planning ApS (København).