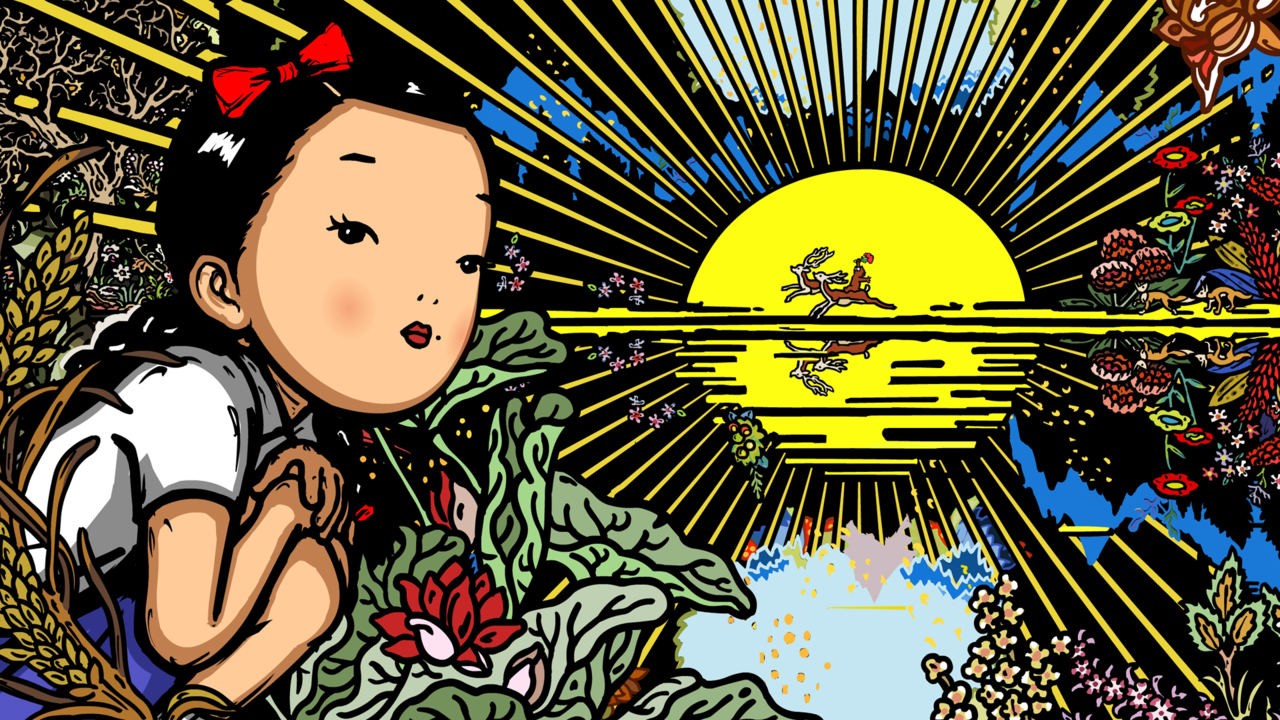 Bu Hua, The Light of Love (section), 2019.
Former exhibition
13th of May – 16th of October 2022

A Chinese exhibition on history, future, traditions and modern women.

The exhibition Stepping Out! presents a broad spectrum of contemporary Chinese women's art.
It is the first major exhibition of its kind ever and it provides broad insight into a relatively unknown aspect of the Chinese artistic community.
Wide range
The exhibition presents more than 100 works by 26 selected artists born between 1960 and 1995.
The exhibition includes performance, video, photography, sculpture, ink drawings and oil paintings, offering a surprisingly rich range of themes, approaches and perspectives.
You can see small porcelain objects by the artist Liu Xi and a nearly five meter high tower sculpture of people from Xiang Jing. The exhibition offers a surprisingly rich range of themes, approaches and perspectives.
Once again, the museum in the small town in Gudbrandsdalen has managed to create an art event of international dimensions. That is impressive! This is not just an enriching and exciting exhibition, it is important. "Stepping Out!" is an absolute must in Norwegian art summer!

Art critic Mona Pahle Bjerke, NRK – Norwegian Broadcasting Corporation
Female perspective
China is changing rapidly. The artists in the exhibition document, investigate and challenge expectations, and they define paradoxes and dreams from a female perspective.
Since the beginning of China's economic boom in the late 1980s, contemporary Chinese art has played an important international role. Despite the many major exhibitions of contemporary Chinese art in the West, thus far no one has focused specifically on female artists. The exhibition Stepping Out! seeks to counteract this imbalance.
Make their mark
With the title Stepping out! the exhibition aims to show that contemporary female artists in China are boldly making their mark in an otherwise male-dominated art community.
They are taking the initiative and claiming a visible place within the art world through their use of a variety of genres, courageous openness and, not least, high artistic quality.
The exhibition is meant to give the public a representative and diversified picture of the outstanding women who are part of the artistic development of a country that is playing an increasingly vital role in the international sphere.
Several generations of female artists
A few years after the death of Mao Zedong in 1976, which marked the end of the so-called cultural revolution, a pioneering group of women artists attracted attention with their creative and daring protest movement in an artistic community that was dominated by men.
Among the key elements for this generation was conducting a discourse using one's own gender and body as a means of expression.
Later, in the 1990s, while China's economy and society were evolving in leaps and bounds, focus was placed on women's traditional roles, their historical roots and ideals, and various old and new definitions of femininity.
Younger artists can use so-called avatars or alter-ego identities to construct their own worlds, while others can explore the dynamics of gender identity or address the theme of queer cultures, which continue to remain taboo in today's China.
Artist list
Wen Hui
Lin Tianmiao
Xiao Lu
Yin Xiuzhen
He Chengyao
Yu Hong
Xing Danwen
Cui Xiuwen
Xiang Jing
Bu Hua
Peng Wei
Tao Aimin
Chen Qiulin
Li Xinmo
Cao Fei
Sun Shaokun
Ma Qiusha
Geng Xue
Hu Yinping
Fan Xi
Luo Yang
Liu Xi
Cao Yu
Chen Zhe
Tong Wenmin
Liang Xiu
The exhibition will also be shown in Kunstforeningen Gl Strand in Copenhagen in Denmark and Museum der Moderne in Salzburg in Austria. It is supported by the Savings Bank Foundation DNB, Innlandet county administration, the Fritt Ord Foundation and the Bergesen Foundation.
© 2022 Copyrights for the images: the artists, photographers, and legal successors.